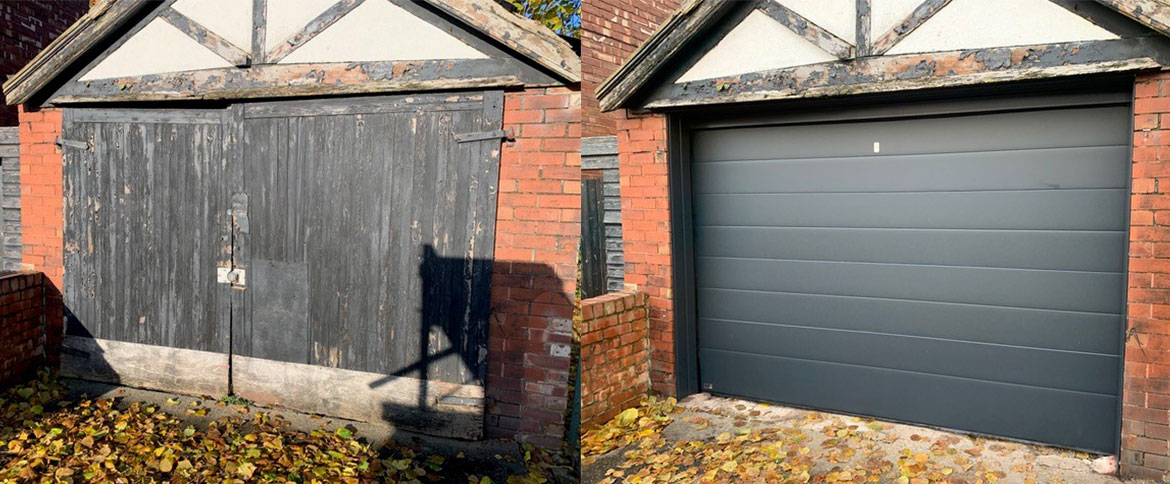 At Alexandra in upgrades and garage door replacement. Our fitters are  more than happy to replace any rotting timber framework around your existing garage door with new.
You may also like to consider replacing the wooden sides along the top of your garage with maintenance free ABS plastic. Guttering can also be attended to if required.
So, if your existing garage door requires any new parts we can install these before we refit your door so it works like new again.
Additionally, if your garage door remote control Fobs/Handsets are not working as well as they used to do, or maybe they're no longer available, we can install a new receiver & handsets with the latest security Rolling Code system. Therefore saving you the cost of a full new remote control system.
Upgrades & Replacement Garages
See below our before & after photos to give you an idea of what can be achieved.
Please Contact Us if you have any queries about our services. We are happy to come out and give a free, no obligation quote.
A new garage door installation will provide more home security will also enhance the look of your property. And Alexandra offer a great choice of products from all the leading garage door manufacturers.
When it comes to repairs, Alexandra garage doors specialise in the repair of your broken or ill fitting door. We always carry the most common replacement parts an can often fix doors up to 25 years old.
Working closely with garage door manufactures for over 10 years, our product knowledge is endless!
We only deal with suppliers that use the best technology and we offer a full 2 year Manufactures Warranty and a 5 year Motor Warranty on all remote controlled garage door installations.